GRAND COMPLICATIONS

Installation and exhibtion project

Gamle Rommen skole, Oslo
25th of August 2018 - 25th of August 2019

Made in collaboration with biologist Peter Roessingh (NL)

Contributions by:
Franziska Nast (DE), Nine Herbs Charm (US/NO), Gunnhild Torgersen (NO), Sara Sølberg (NO), Christian Tony Norum (NO), Silje Linge Haaland (NO), Marthe Ramm Fortun (NO), Anna Daniell (NO) and Hannah Mjølsnes (NO)

www.grandcomplications.net


Digital collage, 2018


Installation view of the Brain, photo: Øystein Thorvaldsen



Detail from the Brain, aquarium, silk, pump and UV light activated by wind exceeding a given speed in work 6002



Detail from the Brain, work 4002, aquarium with UV light, rock, wood, piece of flagpole and water


Detail from the Brain, screen for surveillance cameras and work 4002



Detail from the Nervous system, work 6001, tent pole with camera and motion sensor, mounted on branch



Detail from the Nervous system, work 5002, steel mount with artificial hair for icicle cultivation



3D sketch of old Rommen School Peter Roessingh, 2017



Detail from the Nervous system, work 3001, glass container with water and solar powered fountains, on steel mount



Detail from the Nervous system, work 1001, crystal ball and felt



Detail from the Nervous system, work 6002, rotovent with rotation sensor mounted on former flagpole



Detail from the Brain, work 7002, surveillance chamber for micro-organisms, video-based movement sensor



Detail from the Brain, work 4002, aquarium with UV light, rock, wood, piece of flagpole and water


Documentation of Marthe Ramm Fortun's reading Photo: Øystein Thorvaldsen


Documentation of Silje Linge Haaland's work "Det er så lite med to eller tre blant mange", video installation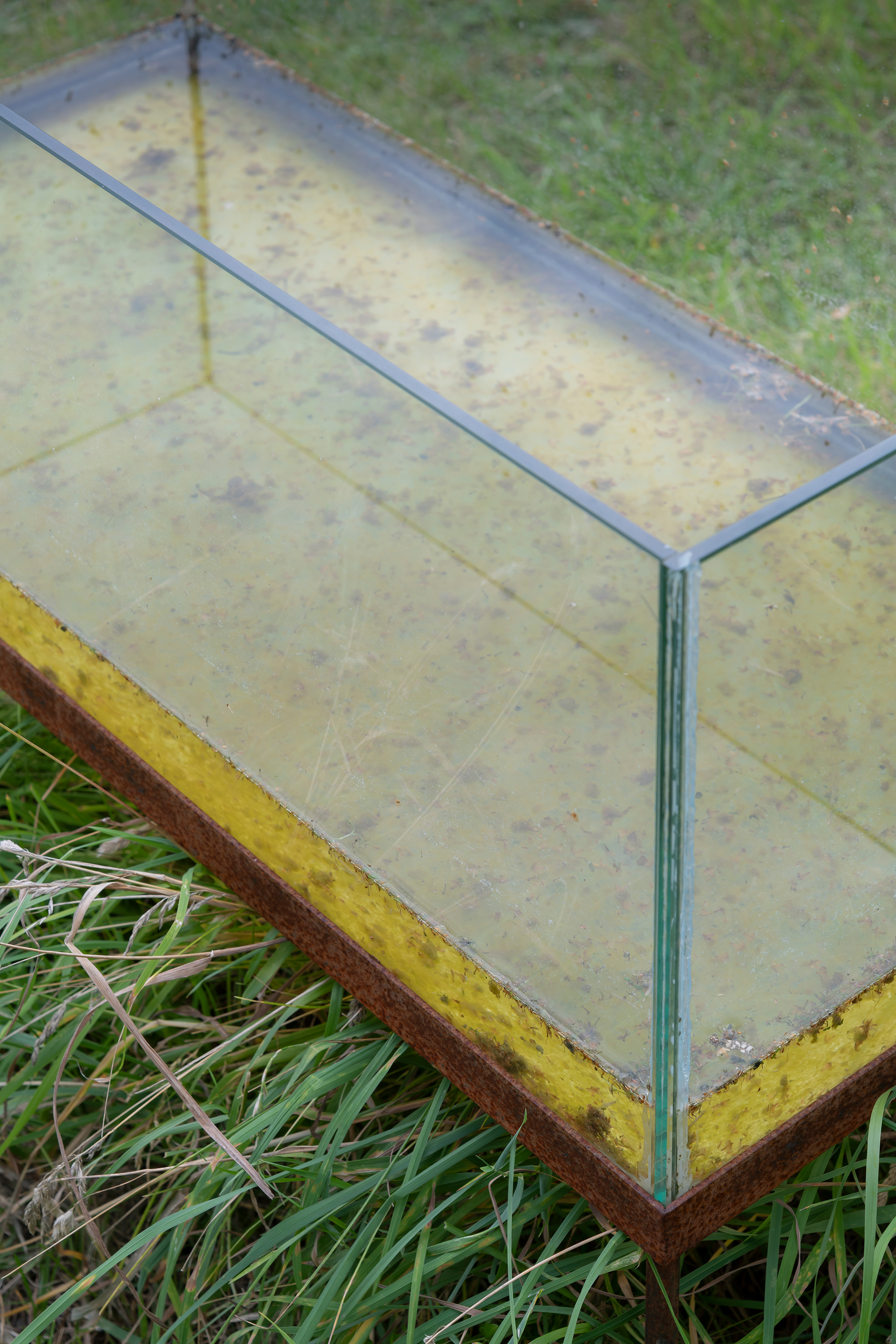 Detail from the Nervous system, work 3001, glass container with water on steel stand


Sketch for unrealised work



Detail from the Brain, work 7002, live stream from surveillance chamber for micro-organisms



Detail from the Nervous system, surveillance camera



Detail from the Nervous system



Detail from the Nervous system, work 1002, geodesic dome


Documentation of Anna Daniell's work "Andrea & Christian", sculptures stored outdoors for 4 years



Detail from the Nervous system, work 5001, glass container with salt solution (road salt), steel stand


Documentation of tea serving with Nine Herbs Charm


Detail from the Brain



Detail from the Brain, work 7002, surveillance chamber for micro-organisms, video-based movement sensor


Documentation of Christian Tony Norum's exhibition



Detail from the Brain, aquarium with silk and pump, activated by wind exceeding a given speed in work 6002


Sketch for unrealised work


photo: Øystein Thorvaldsen, Hannah Mjølsnes, Christian Tony Norum and private



About Grand Complications

600 million years ago a certain mutual organisation of cells of different structures, started to appear in living organisms. We say we live in year 1975 after Christ, but live in the year, six hundred million and seventeen after the first primitive circulation.
From: 5 x 25 wintery notes to a summer project, from Part of the Labyrinth by Inger Christensen
(freely translated)

The exhibition project Grand Complications ended on the 25th of August 2019, after running for one year in and around Gamle Rommen skole (the Old Rommen School). The starting point for the project was an extended dialogue between visual artist Andrea Bakketun (NO), and biologist Peter Roessingh (NL). Over time that conversation manifested itself in a structure of DIY sensor mechanisms that detected subtle and unexpected shifts in nature at Gamle Rommen skole. The sensor data from hidden processes in the environment was translated and made visible as movements in kinetic objects, and audio and video works inside the old school. In this fragile, electronic network, nature proved itself to be the protagonist, growing into or breaking down the various works throughout the year. The development underlined a wish to observe and be present with everything that coexists with us.

In horology, Grand Complications can refer to a clockwork mechanism with several complications. In a wristwatch, complications are functions for displaying time on other levels than hours and minutes, like leap years, lunar fazes or milliseconds. The exhibition project of the same name was constructed from several parallel, time restricted processes. Planetary movements and close variables like temperature, precipitation, wind, light, growth and decay, are outside influences on the installation.

The work that is constantly changing can never be experienced as a whole. The moments when the viewer is present can however bring forth an opportunity to see one's own existence in a larger time scale than one normally relates to; the transition from one ice age to another, the time it takes for a moth to die, the growth and decay of an algae population or the evolution of a new species.

Grand Complications also gradually developed into a collective, trans-disciplinary body of artistic research. Selected artists, authors, scientists and other scholars were invited to take part in the project, contributing with their reactions to the location, its physicality, history, biodiversity and spiritual significance. The events, that spanned exhibitions, children's workshops, readings, tattoo studios, lectures, tea ceremonies, and the launch of an audio guide, have included a number of inspiring participants. The The project has been open to influences and changes posed by every participant, like an organic consciousness spreading out into the body of the school.